Tra cứu số VIN xe ô tô tải
Số VIN xe ô tô, xe tải là gì?
Số VIN xe hay còn được gọi đơn giản là Số khung xe, số máy xe.
Mỗi chiếc xe được sản xuất ra, đều được cấp 1 số khung, số máy duy nhất trên toàn thế giới.
Mục đích: Xác định xuất xứ xe, xe được sản xuất ở nước nào, sản xuất năm nào, thậm chí tháng nào
CÁCH ĐỌC SỐ VIN SỐ KHUNG XE Ô TÔ ĐỂ BIẾT NGUỒN GỐC XUẤT XỨ, NĂM SẢN XUẤT
Kiểm tra VIN xe tải là gì?
Khi đầu tư mua xe, mọi người thường quan tâm xe mới hay xe cũ
Xe xuất xứ từ đâu? nhập khẩu hay sản xuất tại Việt Nam
Làm thế nào để xác định xuất sứ của xe, năm sản xuất xe. Sau đây xetai-hino.vn sẽ hướng dẫn các bạn cách kiểm tra xe, xuất xứ xe, năm sản xuất của các dòng xe.
Cách đọc số Vin số khung của xe có thể đơn gian là họ không quan tâm hoặc nghĩ nó chỉ đơn giản là số thứ tự số lượng xe sản xuất ra của mỗi hãng…Sau đây là bài viết chi tiết về số Vin trên xe ô tô và các hãng xe trên toàn thế giới.
source: https://www.dmv.org/
A heavy duty truck VIN lookup will give you detailed information associated with a truck's vehicle identification number (VIN).
Finding Your VIN
You can locate your vehicle identification number in a few different places, both off and on your vehicle itself.
Off the Vehicle
If you need to find your VIN, you can first check any documentation you have for the vehicle, such as:
Vehicle title.
Registration card.
Insurance documents.
Owner's manual.
Body shop repair records.
Police reports.
Vehicle history report or VIN check.
If you don't have the documentation mentioned above, you can find the VIN on the actual vehicle itself.
The VIN can often be found on the lower-left corner of the dashboard, in front of the steering wheel. You can read the number by looking through the windshield. The VIN may also appear in a number of other locations:
Front of the engine block. This should be easy to spot by popping open the hood, and looking at the front of the engine.
Front of the car frame, near the container that holds windshield washer fluid.
Rear wheel well. Try looking up, directly above the tire.
Inside the driver-side doorjamb. Open the door, and look underneath where the side-view mirror would be located if the door was shut.
Driver-side doorpost. Open the door, and look near the spot where the door latches, not too far from the seatbelt return.
Underneath the spare tire.
If you still can't locate the VIN, try consulting your vehicle manual. Or, call a dealership or the manufacturer and request guidance. You will need it to do a VIN check.
The VIN provides clues as to a vehicle's background, including:
Why Do Vehicles Have VINs?
The National Highway Traffic Safety Administration (NHTSA) began requiring standardized VINs in 1954 for all road vehicles.
Vehicles model year 1981 and newer have a VIN made up of 17 characters (letters and numerals). Before that, the VIN length and format varied among vehicles.
The manufacturer.
Model year.
Where it was built.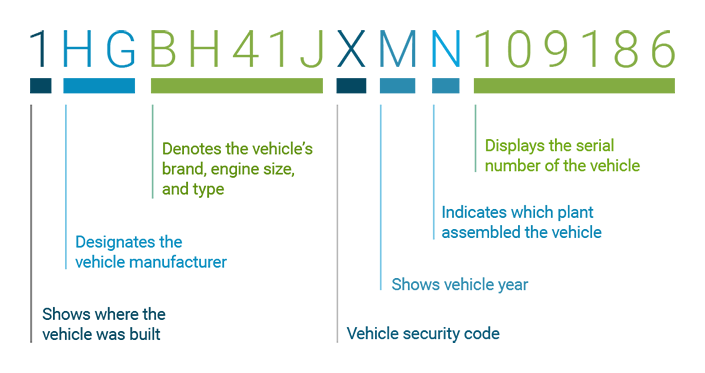 Decoding a Sample VIN
Source: https://www.decodethevin.com
Vehicle Identification Numbers (VIN codes)/World Manufacturer Identifier (WMI)
The infographic below provides a simplified look at a sample VIN. Keep in mind that vehicles manufactured before 1981 might have fewer characters than today's standard VIN of 17 characters.
Model Year & Country Codes
| | | |
| --- | --- | --- |
| A: 1980 or 2010 | L: 1990 or 2020 | Y: 2000 |
| B: 1981 or 2011 | M: 1991 | 1: 2001 |
| C: 1982 or 2012 | N: 1992 | 2: 2002 |
| D: 1983 or 2013 | P: 1993 | 3: 2003 |
| E: 1984 or 2014 | R: 1994 | 4: 2004 |
| F: 1985 or 2015 | S: 1995 | 5: 2005 |
| G: 1986 or 2016 | T: 1996 | 6: 2006 |
| H: 1987 or 2017 | V: 1997 | 7: 2007 |
| J: 1988 or 2018 | W: 1998 | 8: 2008 |
| K: 1989 or 2019 | X: 1999 | 9: 2009 |
Country of Origin Character Codes
The 1st character in a car's vehicle identification number indicates the country in which it was manufactured. World manufacturer identifier (WMI) country of origin character codes
Some of the country codes include:
1, 4, 5: United States
2: Canada
3A-37: Mexico
J: Japan
VF-VR: France
9: Brazil
WA-W0: West Germany
S: Great Britain
source: https://en.wikibooks.org/wiki/Vehicle_Identification_Numbers_(VIN_codes)/World_Manufacturer_Identifier_(WMI)
WMI Regions
The first character of the WMI is the region in which the manufacturer is located. In practice, each is assigned to a country of manufacture. Common auto-manufacturing countries are noted. [1]
WMI
Region
Notes
A-C
Africa
AA-AH = South Africa
J-R
Asia
J = Japan
KL-KR = South Korea
L = China
MA-ME = India
MF-MK = Indonesia
ML-MR = Thailand
MS = Myanmar
NL-NR = Turkey
PA-PE = Philippines
PL-PR = Malaysia
RF-RG = Taiwan
S-Z
Europe
SA-SM = United Kingdom
SN-ST, W = Germany
SU-SZ = Poland
TA-TH = Switzerland
TJ-TP = Czech Republic
TR-TV = Hungary
TW-T1 = Portugal
VA-VE = Austria
VF-VR = France
VS-VW = Spain
VX-V2 = Yugoslavia
XL-XM = The Netherlands
XS-XW = USSR
X3-X0 = Russia
YA-YE = Belgium
YF-YK = Finland
YS-YW = Sweden
ZA-ZR = Italy
1-5
North America
1, 4, 5 = United States
2 = Canada
3 = Mexico
6-7
Oceania
6A-6W = Australia
7A-7E = New Zealand
8-9
South America
8A-8E = Argentina
8F-8J = Chile
8L-8R = Ecuador
8X-82 = Venezuela
9A-9E, 93-99 = Brazil
9F-9J = Colombia
A
B
C
D
E
F
G
H
J
K
L
M
N
P
R
S
T
U
V
W
X
Y
Z
1
2
3
4
5
6
7
8
9
0
A
South Africa
Ivory Coast
Lesotho
Botswana
Namibia
Madagascar
Mauritius
Tunisia
Cyprus
Zimbabwe
Mozambique
Africa
B
Angola
Africa
Kenya
Africa
Nigeria
Africa
Algeria
Africa
Libya
Africa
C
Egypt
Africa
Morocco
Africa
Zambia
Africa
D
E
F
G
H
J
Japan
K
Sri Lanka
Israel
S Korea
Kazakhstan
L
China
M
India
Indonesia
Thailand
Myanmar
Asia
N
Iran
Pakistan
Turkey
Asia
P
Philippines
Singapore
Malaysia
Asia
R
UAE
Taiwan
Vietnam
Saudi Arabia
A
B
C
D
E
F
G
H
J
K
L
M
N
P
R
S
T
U
V
W
X
Y
Z
1
2
3
4
5
6
7
8
9
0
S
United Kingdom
E Germany
Poland
Latvia
Europe
T
Switzerland
Czech Rep
Hungary
Portugal
Europe
U
Europe
Denmark
Ireland
Romania
Europe
Slovak.
Eur
V
Austria
France
Spain
Serbia
Croatia
Estonia
W
Germany
X
Bulgaria
Greece
Netherlands
USSR
Luxembourg
Russia
Y
Belgium
Finland
Malta
Sweden
Norway
Belarus
Ukraine
Z
Italy
Europe
Slovenia
Lithuania
Europe
1
United States
2
Canada
3
Mexico
4
United States
5
6
Australia
Oceania
7
New Zealand
Oceania
8
Argentina
Chile
Ecuador
Peru
Venezuela
South America
9
Brazil
Colombia
Paraguay
Uruguay
Trinidad & Tobago
Brazil
SA
0
South America
not used
The Society of Automotive Engineers (SAE) in the US assigns WMIs to countries and manufacturers.[2] The following table contains a list of mainly commonly used WMIs, although there are many others assigned.
WMI
Manufacturer
AAV
Volkswagen South Africa
AC5
Hyundai South Africa
ADD
Hyundai South Africa
AFA
Ford South Africa
AHT
Toyota South Africa
BR1
Mercedes-Benz Algeria (SAFAV MB)
JA3
Mitsubishi
JA4
Mitsubishi
JA
Isuzu
JD
Daihatsu
JF
Fuji Heavy Industries (Subaru)
JHA-JHO
Hino
JHF-JHG, JHL-JHN, JHZ,
JH1-JH5
Honda
JK
Kawasaki (motorcycles)
JL5
Mitsubishi Fuso
JM1
Mazda
JMB
Mitsubishi Motors
JMY
Mitsubishi Motors
JMZ
Mazda
JN
Nissan
JS
Suzuki
JT
Toyota
JY
Yamaha (motorcycles)
KL
Daewoo General Motors South Korea
KM
Hyundai
KMY
Daelim (motorcycles)
KM1
Hyosung (motorcycles)
KN
Kia
KNM
Renault Samsung
KPA
SsangYong
KPT
SsangYong
LAE
Jinan Qingqi Motorcycle
LAL
Sundiro Honda Motorcycle
LAN
Changzhou Yamasaki Motorcycle
LBB
Zhejiang Qianjiang Motorcycle (Keeway/Generic)
LBE
Beijing Hyundai
LBM
Zongshen Piaggio
LBP
Chongqing Jainshe Yamaha (motorcycles)
LB2
Geely Motorcycles
LCE
Hangzhou Chunfeng Motorcycles (CFMOTO)
LDC
Dong Feng Peugeot Citroen (DPCA), China
LDD
Dandong Huanghai Automobile
LDF
Dezhou Fulu Vehicle (motorcycles)
LDN
SouEast Motor
LDY
Zhongtong Coach, China
LET
Jiangling-Isuzu Motors, China
LE4
Beijing Benz, China
LFB
FAW, China (busses)
LFG
Taizhou Chuanl Motorcycle Manufacturing
LFP
FAW, China (passenger vehicles)
LFT
FAW, China (trailers)
LFV
FAW-Volkswagen, China
LFW
FAW JieFang, China
LFY
Changshu Light Motorcycle Factory
LGB
Dong Feng (DFM), China
LGH
Qoros (formerly Dong Feng (DFM)), China
LGX
BYD Auto, China
LHB
Beijing Automotive Industry Holding
LH1
FAW-Haima, China
LJC
JAC, China
LJ1
JAC, China
LKL
Suzhou King Long, China
LL6
Hunan Changfeng Manufacture Joint-Stock
LL8
Linhai (ATV)
LMC
Suzuki Hong Kong (motorcycles)
LPR
Yamaha Hong Kong (motorcycles)
LPS
Polestar (Volvo) (Sweden)
LRW
Tesla, Inc. (Gigafactory Shanghai)
LSG
Shanghai General Motors, China
LSJ
MG Motor UK Limited – SAIC Motor, Shanghai, China
LSV
Shanghai Volkswagen, China
LSY
Brilliance Zhonghua
LTP
National Electric Vehicle Sweden AB (NEVS)
LTV
Toyota Tian Jin
LUC
Guangqi Honda, China
LVS
Ford Chang An
LVV
Chery, China
LVZ
Dong Feng Sokon Motor Company (DFSK)
LV3
National Electric Vehicle Sweden AB (NEVS)
LZM
MAN China
LZE
Isuzu Guangzhou, China
LZG
Shaanxi Automobile Group, China
LZP
Zhongshan Guochi Motorcycle (Baotian)
LZY
Yutong Zhengzhou, China
LZZ
Chongqing Shuangzing Mech & Elec (Howo)
L4B
Xingyue Group (motorcycles)
L5C
KangDi (ATV)
L5K
Zhejiang Yongkang Easy Vehicle
L5N
Zhejiang Taotao, China (ATV & motorcycles)
L5Y
Merato Motorcycle Taizhou Zhongneng
L85
Zhejiang Yongkang Huabao Electric Appliance
L8X
Zhejiang Summit Huawin Motorcycle
MAB
Mahindra & Mahindra
MAC
Mahindra & Mahindra
MAJ
Ford India
MAK
Honda Siel Cars India
MAL
Hyundai India
MAT
Tata Motors
MA1
Mahindra & Mahindra
MA3
Suzuki India (Maruti)
MA6
GM India
MA7
Mitsubishi India (formerly Honda)
MB8
Suzuki India Motorcycles
MBH
Suzuki India (Maruti)
MBJ
Toyota India
MBR
Mercedes-Benz India
MB1
Ashok Leyland
MCA
Fiat India
MCB
GM India
MC2
Volvo Eicher commercial vehicles limited.
MDH
Nissan India
MD2
Bajaj Auto
MD9
Shuttle Cars India
MEC
Daimler India Commercial Vehicles
MEE
Renault India
MEX
Volkswagen India
MHF
Toyota Indonesia
MHR
Honda Indonesia
MLC
Suzuki Thailand
NAA
Iran Khodro (Peugeot Iran)
NAP
Pars Khodro
MLH
Honda Thailand
MMA
Mitsubishi Thailand
MMB
Mitsubishi Thailand
MMC
Mitsubishi Thailand
MML
MG Thailand (SAIC)
MMM
Chevrolet Thailand
MMS
Suzuki Thailand
MMT
Mitsubishi Thailand
MMU
Holden Thailand
MM8
Mazda Thailand
MNB
Ford Thailand
MNT
Nissan Thailand
MPA
Isuzu Thailand
MP1
Isuzu Thailand
MRH
Honda Thailand
MR0
Toyota Thailand
MS0
SSS MOTORS Myanmar
MS3
Suzuki Myanmar Motor Co.,Ltd.
NC9
VIRA Diesel
NLA
Honda Türkiye
NLE
Mercedes-Benz Türk Truck
NLH
Hyundai Assan
NLN
Karsan
NLR
OTOKAR
NLT
TEMSA
NMB
Mercedes-Benz Türk Buses
NMC
BMC
NM0
Ford Turkey
NM4
Tofaş Türk
NMT
Toyota Türkiye
NNA
Isuzu Turkey
NP9
Bozankaya
PE1
Ford Philippines
PE3
Mazda Philippines
PL1
Proton, Malaysia
PNA
NAZA, Malaysia (Peugeot)
R2P
Evoke Electric Motorcycles HK
RA1
Steyr Trucks International FZE, UAE
RFB
Kymco, Taiwan
RFG
Sanyang SYM, Taiwan
RFL
Adly, Taiwan
RFT
CPI, Taiwan
RF3
Aeon Motor, Taiwan
SAB
Optare
SAD
Jaguar (F-Pace, I-Pace)
SAL
Land Rover
SAJ
Jaguar
SAR
Rover
SAX
Austin-Rover
SA9
OX Global
SB1
Toyota UK
SBM
McLaren
SCA
Rolls Royce
SCB
Bentley
SCC
Lotus Cars
SCE
DeLorean Motor Cars N. Ireland (UK)
SCF
Aston
SCK
iFor Williams
SDB
Peugeot UK (formerly Talbot)
SED
General Motors Luton Plant
SEY
LDV
SFA
Ford UK
SFD
Alexander Dennis UK
SHH
Honda UK
SHS
Honda UK
SJN
Nissan UK
SKF
Vauxhall
SLP
JCB Research UK
SMT
Triumph Motorcycles
SUF
Fiat Auto Poland
SUL
FSC (Poland)
SUP
FSO-Daewoo (Poland)
SU9
Solaris Bus & Coach (Poland)
SUU
Solaris Bus & Coach (Poland)
SWV
TA-NO (Poland)
TCC
Micro Compact Car AG (smart 1998-1999)
TDM
QUANTYA Swiss Electric Movement (Switzerland)
TK9
SOR buses (Czech Republic)
TMA
Hyundai Motor Manufacturing Czech
TMB
Škoda (Czech Republic)
TMK
Karosa (Czech Republic)
TMP
Škoda trolleybuses (Czech Republic)
TMT
Tatra (Czech Republic)
TM9
Škoda trolleybuses (Czech Republic)
TNE
TAZ
TN9
Karosa (Czech Republic)
TRA
Ikarus Bus
TRU
Audi Hungary
TSB
Ikarus Bus
TSE
Ikarus Egyedi Autobuszgyar, (Hungary)
TSM
Suzuki Hungary
TW1
Toyota Caetano Portugal
TYA
Mitsubishi Trucks Portugal
TYB
Mitsubishi Trucks Portugal
UU1
Renault Dacia, (Romania)
UU2
Oltcit
UU3
ARO
UU4
Roman SA
UU5
Rocar
UU6
Daewoo Romania
UU7
Euro Bus Diamond
UU9
Astra Bus
UV9
ATP Bus
UWR
Robus Reșița
UZT
UTB (Uzina de Tractoare Brașov)
U5Y
Kia Motors Slovakia
U6Y
Kia Motors Slovakia
VAG
Magna Steyr Puch
VAN
MAN Austria
VBK
KTM (Motorcycles)
VF1
Renault
VF2
Renault
VF3
Peugeot
VF4
Talbot
VF6
Renault (Trucks & Buses)
VF7
Citroën
VF8
Matra
VF9
Bugatti
VFA
Alpine
VG5
MBK (motorcycles)
VLU
Scania France
VN1
SOVAB (France)
VNE
Irisbus (France)
VNK
Toyota France
VNV
Renault-Nissan
VSA
Mercedes-Benz Spain
VSE
Suzuki Spain (Santana Motors)
VSK
Nissan Spain
VSS
SEAT
VSX
Opel Spain
VS6
Ford Spain
VS7
Citroën Spain
VS9
Carrocerias Ayats (Spain)
VTH
Derbi (motorcycles)
VTL
Yamaha Spain (motorcycles)
VTT
Suzuki Spain (motorcycles)
VV9
TAURO Spain
VWA
Nissan Spain
VWV
Volkswagen Spain[3]
VX1
Zastava / Yugo Serbia
WAG
Neoplan
WAU
Audi
WA1
Audi SUV
WBA
BMW
WBS
BMW M
WBW
BMW
WBY
BMW
WB1
BMW Motorrad of North America
WDA
Daimler
WDB
Mercedes-Benz
WDC
DaimlerChrysler
WDD
Mercedes-Benz
WDF
Mercedes-Benz (commercial vehicles)
WEB
Evobus GmbH (Mercedes-Bus)
WJM
Iveco Magirus
WF0
Ford Germany
WKE
Fahrzeugwerk Bernard Krone (truck trailers)
WKK
Kässbohrer/Setra
WMA
MAN Germany
WME
smart
WMW
MINI
WMX
Mercedes-AMG
WMZ
MINI
WP0
Porsche
WP1
Porsche SUV
WSM
Schmitz-Cargobull (truck trailers)
W09
RUF
W0L
Opel
W0V
Opel (since 2017)
WUA
Audi Sport GmbH (formerly quattro GmbH)
WVG
Volkswagen MPV/SUV
WVW
Volkswagen
WV1
Volkswagen Commercial Vehicles
WV2
Volkswagen Bus/Van
WV3
Volkswagen Trucks
XLB
Volvo (NedCar)
XLE
Scania Netherlands
XLR
DAF (trucks)
XL4
Lightyear
XL9
Spyker
XMC
Mitsubishi (NedCar)
XMG
VDL Bus & Coach
XP7
Tesla, Inc. (Gigafactory Berlin-Brandenburg)
XTA
Lada/AvtoVAZ (Russia)
XTC
KAMAZ (Russia)
XTH
GAZ (Russia)
XTT
UAZ/Sollers (Russia)
XTU
Trolza (Russia)
XTY
LiAZ (Russia)
XUF
General Motors Russia
XUU
AvtoTor (Russia, General Motors SKD)
XW8
Volkswagen Group Russia
XWB
UZ-Daewoo (Uzbekistan)
XWE
AvtoTor (Russia, Hyundai-Kia SKD)
X1M
PAZ (Russia)
X4X
AvtoTor (Russia, BMW SKD)
X7L
Renault AvtoFramos (Russia)
X7M
Hyundai TagAZ (Russia)
Y4K
Geely (Belarus)
YBW
Volkswagen Belgium
YB1
Volvo Trucks Belgium
YCM
Mazda Belgium
YE2
Van Hool (buses)
YH2
BRP Finland (Lynx snowmobiles)
YK1
Saab-Valmet Finland
YSC
Cadillac (Saab)
YS2
Scania AB
YS3
Saab
YS4
Scania Bus
YTN
Saab NEVS
YT9/007
Koenigsegg
YT9/034
Carvia
YU7
Husaberg (motorcycles)
YVV
Polestar (Volvo) (Sweden)
YV1
Volvo Cars
YV4
Volvo Cars
YV2
Volvo Trucks
YV3
Volvo Buses
Y3M
MAZ (Belarus)
Y6D
Zaporozhets/AvtoZAZ (Ukraine)
ZAA
Autobianchi
ZAM
Maserati
ZAP
Piaggio/Vespa/Gilera
ZAR
Alfa Romeo
ZBN
Benelli
ZCG
Cagiva SpA / MV Agusta
ZCF
Iveco
ZDC
Honda Italia Industriale SpA
ZDM
Ducati Motor Holdings SpA
ZDF
Ferrari Dino
ZD0
Yamaha Italy
ZD3
Beta Motor
ZD4
Aprilia
ZFA
Fiat
ZFC
Fiat V.I.
ZFF
Ferrari
ZGU
Moto Guzzi
ZHW
Lamborghini
ZJM
Malaguti
ZJN
Innocenti
ZKH
Husqvarna Motorcycles Italy
ZLA
Lancia
Z8M
Marussia (Russia)
1B3
Dodge
1C3
Chrysler
1C4
Chrysler
1C6
Chrysler
1D3
Dodge
1FA
Ford Motor Company
1FB
Ford Motor Company
1FC
Ford Motor Company
1FD
Ford Motor Company
1FM
Ford Motor Company
1FT
Ford Motor Company
1FU
Freightliner
1FV
Freightliner
1F9
FWD Corp.
1G
General Motors USA
1GC
Chevrolet Truck USA
1GT
GMC Truck USA
1G1
Chevrolet USA
1G2
Pontiac USA
1G3
Oldsmobile USA
1G4
Buick USA
1G6
Cadillac USA
1G8
Saturn USA
1GM
Pontiac USA
1GN
Chevrolet SUV USA
1GY
Cadillac USA
1H
Honda USA
1HD
Harley-Davidson
1HT
International Truck and Engine Corp. USA
1J4
Jeep
1J8
Jeep
1L
Lincoln USA
1ME
Mercury USA
1M1
Mack Truck USA
1M2
Mack Truck USA
1M3
Mack Truck USA
1M4
Mack Truck USA
1M9
Mynatt Truck & Equipment
1N
Nissan USA
1NX
NUMMI USA
1P3
Plymouth USA
1PY
John Deere USA
1R9
Roadrunner Hay Squeeze USA
1VW
Volkswagen USA
1XK
Kenworth USA
1XP
Peterbilt USA
1YV
Mazda USA (AutoAlliance International)
1ZV
Ford (AutoAlliance International)
2A4
Chrysler Canada
2BP
Bombardier Recreational Products
2B3
Dodge Canada
2B7
Dodge Canada
2C3
Chrysler Canada
2CN
CAMI
2D3
Dodge Canada
2FA
Ford Motor Company Canada
2FB
Ford Motor Company Canada
2FC
Ford Motor Company Canada
2FM
Ford Motor Company Canada
2FT
Ford Motor Company Canada
2FU
Freightliner
2FV
Freightliner
2FZ
Sterling
2Gx
General Motors Canada
2G1
Chevrolet Canada
2G2
Pontiac Canada
2G3
Oldsmobile Canada
2G4
Buick Canada
2G9
mfr. of less than 1000/ yr. Canada
2HG
Honda Canada
2HK
Honda Canada
2HJ
Honda Canada
2HM
Hyundai Canada
2M
Mercury
2NV
Nova Bus Canada
2P3
Plymouth Canada
2T
Toyota Canada
2TP
Triple E Canada LTD
2V4
Volkswagen Canada
2V8
Volkswagen Canada
2WK
Western Star
2WL
Western Star
2WM
Western Star
363
Spyker
3C4
Chrysler Mexico
3C6
RAM Mexico
3D3
Dodge Mexico
3D4
Dodge Mexico
3FA
Ford Motor Company Mexico
3FE
Ford Motor Company Mexico
3G
General Motors Mexico
3H
Honda Mexico
3JB
BRP Mexico (all-terrain vehicles)
3MD
Mazda Mexico
3MZ
Mazda Mexico
3N
Nissan Mexico
3NS
Polaris Industries USA
3NE
Polaris Industries USA
3P3
Plymouth Mexico
3VW
Volkswagen Mexico
46J
Federal Motors Inc. USA
4EN
Emergency One USA
4F
Mazda USA
4JG
Mercedes-Benz USA
4M
Mercury
4P1
Pierce Manufacturing Inc. USA
4RK
Nova Bus USA
4S
Subaru-Isuzu Automotive
4T
Toyota
4T9
Lumen Motors
4UF
Arctic Cat Inc.
4US
BMW USA
4UZ
Frt-Thomas Bus
4V1
Volvo
4V2
Volvo
4V3
Volvo
4V4
Volvo
4V5
Volvo
4V6
Volvo
4VL
Volvo
4VM
Volvo
4VZ
Volvo
538
Zero Motorcycles (USA)
5F
Honda USA-Alabama
5J
Honda USA-Ohio
5L
Lincoln
5N1
Nissan USA
5NP
Hyundai USA
5T
Toyota USA – trucks
58A
Toyota USA – Kentucky (Lexus ES)
5YJ
Tesla, Inc. (only US-built Model S and Model 3 starting from Nov, 1st 2021)
56K
Indian Motorcycle USA
6AB
MAN Australia
6F4
Nissan Motor Company Australia
6F5
Kenworth Australia
6FP
Ford Motor Company Australia
6G1
General Motors-Holden (post Nov 2002)
6G2
Pontiac Australia (GTO & G8)
6H8
General Motors-Holden (pre Nov 2002)
6MM
Mitsubishi Motors Australia
6T1
Toyota Motor Corporation Australia
6U9
Privately Imported car in Australia
7SA
Tesla, Inc. (US-built MPVs (e.g. Model X, Model Y))
795
Bugatti
8AD
Peugeot Argentina
8AF
Ford Motor Company Argentina
8AG
Chevrolet Argentina
8AJ
Toyota Argentina
8AK
Suzuki Argentina
8AP
Fiat Argentina
8AW
Volkswagen Argentina
8A1
Renault Argentina
8GD
Peugeot Chile
8GG
Chevrolet Chile
8LD
Chevrolet Ecuador
935
Citroën Brazil
936
Peugeot Brazil
92H
Origem Brazil
93H
Honda Brazil
93R
Toyota Brazil
93U
Audi Brazil
93V
Audi Brazil
93X
Mitsubishi Motors Brazil
93Y
Renault Brazil
94D
Nissan Brazil
9BD
Fiat Brazil
9BF
Ford Motor Company Brazil
9BG
Chevrolet Brazil
9BM
Mercedes-Benz Brazil
9BR
Toyota Brazil
9BS
Scania Brazil
9BW
Volkswagen Brazil
9FB
Renault Colombia
9GA
Chevrolet Colombia